Stay updated on the latest puppies at Carrier Family Doodles!
Our current and upcoming litters of pups are posted here.
Sign up to receive email notifications of updates.
After looking through our current and upcoming litters, feel free to contact us with questions or to request additional photos or video. Visit our "reserve a puppy" page to begin the adoption process once litters are listed as open for reservation.
All of the puppies from Cheza's recent litter have found forever homes!

Birth date: June 7, 2022
Expected Adoption Date:  August 2, 2022
Sire: Jackpot
Expected weight: 25 lbs.
Jina and Jackpot, expecting end of July (adoption day end of September). 20-25 lbs. adult size.

Ruby and Buster This is a litter of F2 Bernedoodles that should be medium in size, about 50 lbs. Expecting early August (adoption day early October).
Mvua and Buster,  Expecting early August (adoption day early October). Approximately 40 lbs. adult size.
Visit our puppy parents page for more information on any of our expecting puppy parents.
Ready to take the next step and reserve a puppy? Visit this page to begin the process.
Reservations open for current litters when descriptions and prices are listed on the Web site.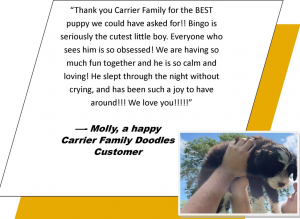 Join the Carrier Family Doodles family–
fans of the family-raised
Golden Mountain Doodle!