Welcome to Carrier Family Doodles,
specializing in the unique Golden Mountain Doodle!

Welcome to Carrier Family Doodles! If you're looking for the perfect Golden Mountain Doodle puppy that has been raised in a loving, caring, family home, look no further. We can't wait to help you find the puppy that's just right for you!
We specialize in Golden Mountain Doodles, the ideal companion dog: high quality; healthy; mini-to-medium sized; soft and fluffy; intelligent and affectionate. These dogs are considered to be non-shedding and hypo-allergenic, perfect for people who are concerned about dog hair or suffer from mild pet allergies (see our FAQs for more on this). Our Golden Mountain Doodle puppies come in a variety of coat and color options with the best characteristics of both their parent breeds (Goldendoodle x Bernedoodle). All our parents are health tested and our puppies are vaxxed and vet-checked while in our care.
We strive to offer these special puppies at the very best price. For those who can't afford one of these exceptional puppies, we offer you a chance to receive yours freely by giving one out of every ten puppies away to an eligible recipient.

Our puppy parents are more than just "breeding stock;" they are beloved family pets. The puppies are raised in our home and are well-socialized by our large family. We observe and interact with the puppies so that we can best match customer needs with puppy temperament and personality. We want every puppy to be a blessing to his or her new family! We communicate with you via email, text, or phone with frequent video updates or do real-time video chats via WhatsApp, Google Hangouts, or Facebook Messenger.
Find out more about this beautiful cross between the Goldendoodle and the Bernedoodle: an ideal combination!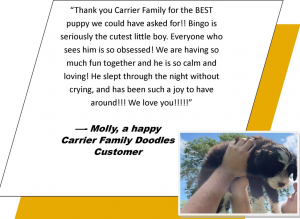 Join the Carrier Family Doodles' family of satisfied customers. Our five-star reviews highlight great communication throughout the adoption process as well as happy, healthy, home-raised puppies.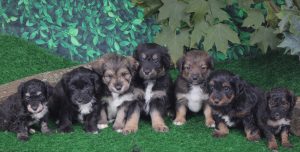 See what's currently available or soon-to-be-available. Depending on the parents, there could be Merles, gorgeous tricolors, unique Parti puppies, or basic black.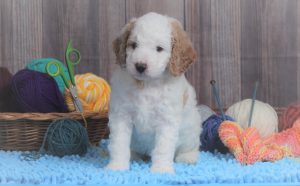 Take a look at our unique Golden Mountain Doodles: parti, abstract, tuxedo, Merle, Phantom, tri-color, or solid color, depending on the combination of parents.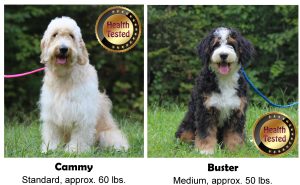 Our Goldendoodle and Bernedoodle parents are health tested. All are beloved pets in our large family household.
We do not have a wait list for puppies. Instead, when current litters reach 4-5 weeks of age, we are open for first-come, first-served reservations for available puppies.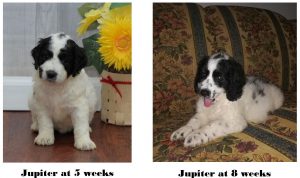 Frequently asked questions about Golden Mountain Doodles and Carrier Family Doodles: Are Golden Mountain Doodles hypoallergenic and non-shedding? How does the puppy giveaway work?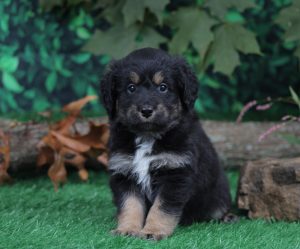 We give away one out of every ten of our puppies. Applicants must meet certain criteria (including being local enough to pick up their puppy). We choose the recipient as a family.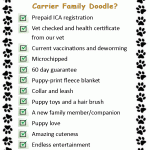 Find out more about Carrier Family Doodles' policies regarding our reservation process, health guarantee and warranty, puppy delivery, and more.