Most likely, a simple info graphic won't answer all your questions about the Golden Mountain Doodle. You can find more information by expanding any of the questions below:
The Golden Mountain Doodle combines the best of the Goldendoodle and the Bernedoodle in one unique family pet.
A recently published article does a great job of describing the characteristics and benefits of the Golden Mountain Doodle breed. We also chuckled as we scrolled through to see a screenshot of Carrier Family Doodles' own Merlin (now Theo), taken from his Instagram account!
You can read more about the Carrier family and Carrier Family Doodles here. We believe in doing our very best in whatever work is set before us; breeding dogs is no different. We want to offer you well-bred, healthy, happy puppies! We believe that that happens when dogs are cared for in a family environment where they can be loved, well monitored for potential health issues, and well-socialized. Our puppy parents are all genetic health tested and our puppies are vaxxed and vet-checked before leaving our care.
We are a large family and we all work together to make Carrier Family Doodles the best it can possibly be, so that you can be confident that you are receiving the perfect puppy for you. Marc, a former project manager, coordinates all the care necessary for each upcoming and current litter of puppies and manages day-to-day issues that concern the dogs. He makes sure we have needed supplies and makes a lot of our deliveries happen. Cindy works the Website, handles most of the correspondence, and loves on all the dogs. Day-to-day needs for the puppy parents and current litters are well-managed by our oldest daughter, Rebekah, who also was the primary caregiver for our German Shepherds in Kenya. Our puppy parents are beloved pets, so most of them sleep in the childrens' beds (or Mom and Dad's!), and all the children enjoy playing with the latest litters of puppies once their eyes open.
All but two of our "puppy parents" were, at one time, kennel dogs for an extended period of time. All need work in training and are still more skittish at times than Doodles are generally known to be. This is one of the biggest reasons why we believe in home-raising our puppies and socializing them well, so that they will have the very best start they possibly can! Many of our customers have commented about how well-socialized and trainable our puppies are, how eager to please, and with wonderful personalities. This is a blessing to us, as we want our puppies to be a blessing to their new owners!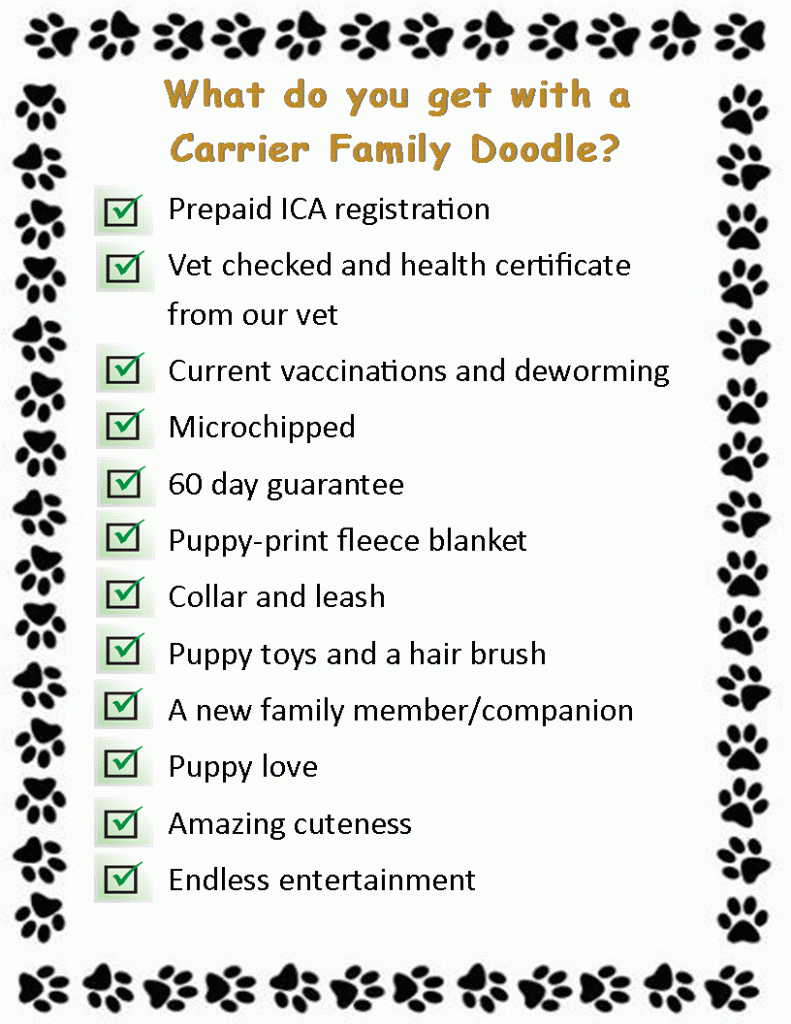 Our puppies are vaxxed, vet-checked, microchipped and ICA registered.  They are well-socialized and much loved by our large family. As an added bonus, we work on potty-training our puppies beginning as early as three weeks!