Stay updated on the latest puppies at Carrier Family Doodles!
Our current and upcoming litters of pups are posted here.
Sign up to receive email notifications of updates.
After looking through our current and upcoming litters, feel free to contact us with questions or to request additional photos or video. Visit our "reserve a puppy" page to begin the adoption process once litters are listed as open for reservation.
Birth date: April 20, 2022
Expected Adoption Date:  June 15, 2022
Sire: Jackpot
Expected weight: 20-25 lbs.
This litter will open for reservation when furnishings are determined with confidence (approx. 5 weeks).  We are in the process of moving to our New Concord, KY, location, so our photos aren't "studio quality." However, we wanted to post individual photos this week to help you get to know these puppies better!

BOLT
Estimated Size: 20-25 lbs.
Male, 4 weeks

Bolt is a tricolor with the look of the Bernese Mountain Dog. So far, he wags his tail the most and likes to give puppy kisses. He seems to have a straighter/slightly wavy coat but appears furnished.
HOPE
Estimated Size:
20-25 lbs
Female, 4 weeks
Hope is black with minimal white markings. She is friendly and cute. She is curly but we are not certain of her furnishings just yet.
CHANCE
Estimated Size: 20-25 lbs.
Male, 4 weeks
Chance is a parti with  curly fur. Bekah says he is super fluffy, so she loves petting him.  He likes to give puppy kisses. He is the giveaway puppy in this litter.
LILLY
Estimated Size:
20-25 lbs
Female, 4 weeks
Lilly has a straight, soft coat but seems furnished thus far. She is all white except for the tri-color markings on her head.  Bekah says Lilly likes to eat and seems very interested in exploring the world around her.
SHADOW
Estimated Size: 20-25 lbs.
Male, 4 weeks
Shadow will likely have a wavy coat and he seems furnished. Bekah says he has a "super cute face" and so far seems quieter than some of the other puppies.
PETUNIA
Estimated Size:
20-25 lbs
Female, 4 weeks
Petunia is curlier but seems unfurnished. She is a parti with some tan on her face.  She likes lap-sitting and being pet.
Carly and Jackpot expecting (mid-June) Their last litter was black/black & white, with a couple of handsome tuxedos.

Visit our puppy parents page for more information on any of our expecting puppy parents.
Ready to take the next step and reserve a puppy? Visit this page to begin the process.
Reservations open for current litters when descriptions and prices are listed on the Web site.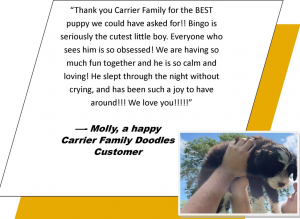 Join the Carrier Family Doodles family–
fans of the family-raised
Golden Mountain Doodle!