Stay updated on the latest puppies at Carrier Family Doodles!
Our current and upcoming litters of pups are posted here.
Sign up to receive email notifications of updates.
After looking through our current and upcoming litters, feel free to contact us with questions or to request additional photos or video. Visit our "reserve a puppy" page to begin the adoption process once litters are listed as open for reservation.

All puppies from our most recent litters are sold. Next litters expected in June, with August adoption dates.



Amber and Jackpot are expecting in mid-June, with an adoption date in early August.

Autumn and Jackpot are also expected to have a litter with an adoption day in mid-August.
Amber x Jackpot and Autumn x Jackpot  will be in the 20-25 lb range. Last time,  Amber had some phantom tri-color and black/black & white.  Autumn's were all black/black & white.

Carly and Buster are expecting around June 20, with mid-August adoption.
Carly x Buster puppies should be in the 35-45 lb range. They have previously had golden, tuxedo, parti, and black puppies.
Cheza and Jackpot are expecting around June 21, with mid-August adoption.
These puppies are expected to be in the 20-25 lb range Previously, Cheza and Jackpot have had tri-color, Phantom tri-color, parti, and black/black & white.
We are expecting our first litter of AUSSIE MOUNTAIN DOODLES in July (September adoption)!  Parents are Buster and Stormy. Puppies are expected to be 45-50 lbs adult size.

Message to request photos of previous puppies from these parent combinations. You can find some in our puppy photo gallery.

Visit our puppy parents page for more information on any of our expecting puppy parents.
Ready to take the next step and reserve a puppy? Visit this page to begin the process.
Reservations open for current litters when descriptions and prices are listed on the Web site.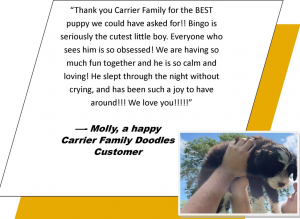 Join the Carrier Family Doodles family–
fans of the family-raised
Golden Mountain Doodle!