Here you'll find Carrier Family Doodles' policies on puppy purchase, health guarantee, and more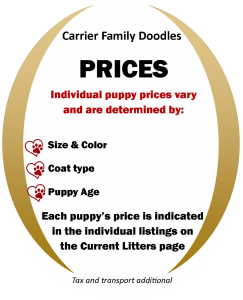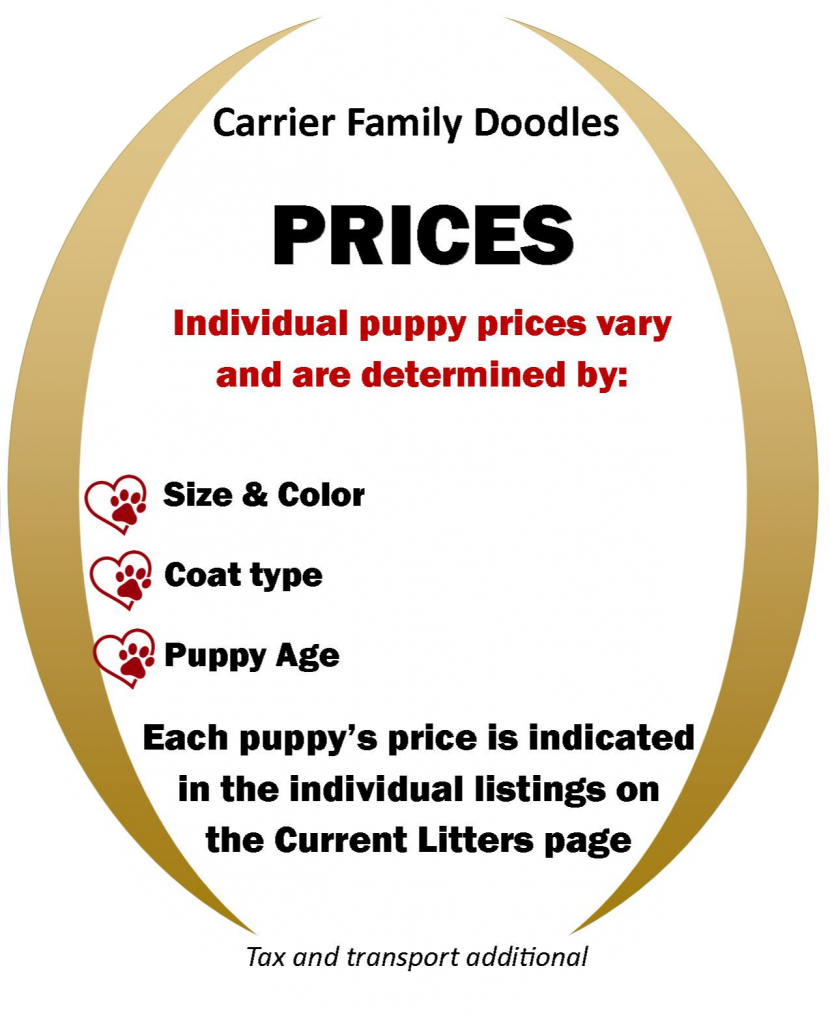 Reserving a puppy
We can't reserve puppies until a deposit is paid. Please read through all the information below to be sure you understand how the process works. If you feel that a Golden Mountain Doodle puppy would be a good fit for you, contact us or get on our notifications list to receive email updates when future litters will be available.
We do not permit deposits to be placed on "expected" puppies or future litters. When new puppies are available, we first alert our newsletter list of people who have signed up for such notifications. Placing a deposit on a puppy is then open on a first-come, first-served basis. This gives everyone a similar opportunity to get the puppy of their choice.
A deposit reserves the puppy of your preference (i.e., a "named" puppy) from a current litter. Therefore, this $500 is NON-REFUNDABLE. We allow reservations before 6 weeks of age, but this is at your own risk. We offer no guarantee regarding coat, color changes, or (especially) furnishings. A small percentage of Golden Mountain Doodles are genetically unfurnished, and we do note those as early as we are able in our puppy descriptions. However, this cannot always be visually determined for certain before a puppy is 6 weeks old. If you are particularly concerned about hypoallergenicity or non-shedding, we recommend you do not place a deposit on a puppy until furnishings have been determined.
Health Guarantee and 60-day Warranty
We work hard to make sure that every puppy goes home happy and healthy. Each one is vet-checked before leaving our care. But as it is with us humans, things can go wrong in the puppy world. To ensure that your puppy thrives in its new environment, we ask that you get your puppy re-checked by your local vet within 72 hours of going home.
Any normal costs incurred are the responsibility of the buyer (i.e., office visit, standard medications). If there should be any unexpected problems outside of the range of normal within your puppy's first 60 days at home, we will reimburse you for the cost of treatment (that amount not to exceed the cost of the dog). This would exclude any conditions which, upon veterinary assessment, are the result of improper care, mishandling, or accident after the puppy has left our care. This warranty is invalidated if the vet check (by a licensed DVM, with appropriate documentation) has not been performed within 72 hours of the puppy arriving at his/her new home.
Carrier Family Doodles makes NO WARRANTY regarding a dog's personality, coat color or markings, hypoallergenicity, shedding, size, weight, or coat type. It is the buyer's responsibility to ask questions, visit the puppies, or seek photos/videos that will make for a mutually satisfactory puppy placement.
Please note that a dog is just like a person: they change a bit as they age (sometimes regarding fur color or particular markings) but it really doesn't detract from the general good looks and wonderful personality of the Golden Mountain Doodle. We can't help but fall in love with each and every one of our puppies; some are just adorable in looks and others are known for their personality. We will work with you to make sure we select the best possible puppy that we can for you. We always recommend a personal visit to our home so that you can interact with the puppies, if you are local to our Kentucky location. If you are concerned about any slight changes in appearance over time (such as in the photo below), we encourage you not to put a non-refundable deposit on a puppy before 6 or 7 weeks.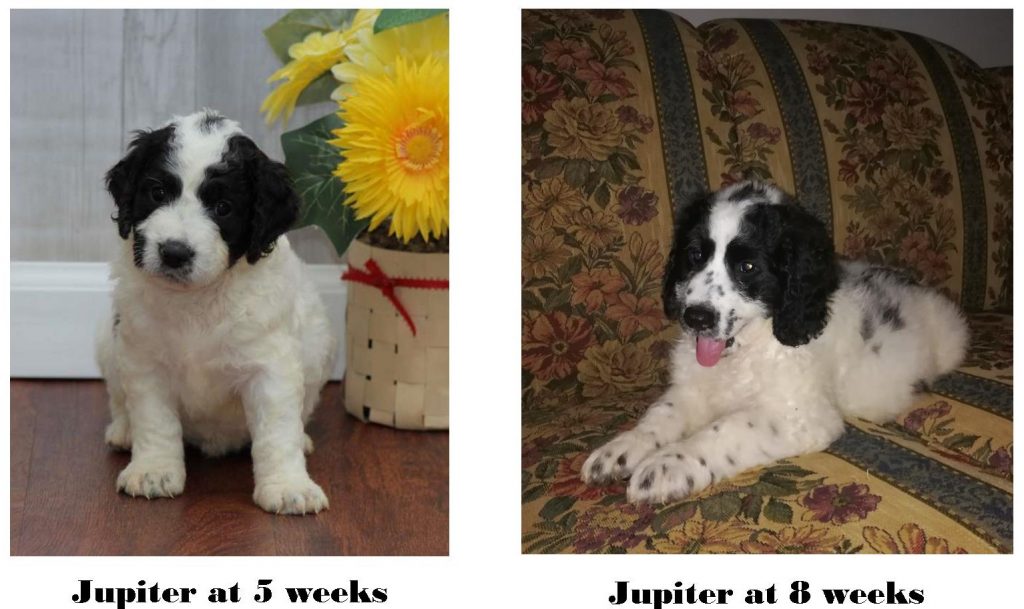 Because Golden Mountain Doodles are a hybrid breed, we also make no warranty in regard to breed-specific genetic abnormalities or hereditary health issues, which would be nearly impossible to predict at the time of sale of an 8-week-old puppy. All our puppy parents have been health tested and are clear of the standard diseases, but this should not be construed as a guarantee that your puppy will not develop health conditions in the future.
Pickup and Delivery
Every puppy has an 8-week "adoption day" specified on our Web site at the time of listing. We ask that puppies be picked up on their adoption day or within 7 days, except where we have mutually agreed upon other arrangements in advance. We do offer extended boarding at the rate of $50/week if you cannot pick up within this 7-day grace period.
Payments for balance due can be made in cash upon pickup/delivery, OR by credit card, subject to an additional 3% transaction charge. We also accept Zelle or cashier's check upon mutual agreement. We do not use cash apps.
Local pickup is preferred at our location in New Concord, KY; however, that is not always practical. If you can't pick up locally, we have several ground shipping options available. We can (in most situations) deliver directly to your home, or to an agreed-upon midway location, for $0.65 per mile (or $1.30 per mile based on one-way mileage).  We also offer a "flat rate" delivery of $100 to locations within 4 hours of us. We would be happy to discuss the options with you and help you decide what is best for you. Any puppies picked up in Kentucky are subject to 6% state sales tax. Puppies that are flown or are picked up/delivered outside of Kentucky are not taxed.
Any balance due must be paid in full BEFORE delivery, if the dog is to be transported by Carrier Family Doodles. We will NOT accept cash-on-delivery payments for distant delivery of puppies, although we may make an exception for local deliveries. Online payments can be made, subject to an additional 3% service charge. We will typically send an invoice approximately one week before final delivery of your puppy.
Flying Puppies
Our puppy courier personally carries your puppy from the Nashville, TN airport to the closest major airport near you. The price is $350 (this includes the $125 pet fee) plus the price of the airline ticket. The puppy care courier delivers the puppy in a breathable, soft travel carrier that remains in-cabin the whole trip. The puppy is comfortable and receives the best possible care during the journey.
Airport Pickup
If you want to fly the puppy yourself, we can meet you at the Nashville, TN airport for $100 within business hours. You will then be responsible for purchasing your own airline tickets. We request that you bring an appropriate flight-approved carrier to make the trip.  Please be sure your airline does not have any restrictions regarding puppy age (one airline we have dealt with would not fly puppies under 10 weeks of age). Also check weight limits for in-cabin flights (although all of our puppies have been well under the limits thus far).
Sales tax and Processing fees
We are required to charge 6% sales tax on all puppies sold to in-state (KY) customers. Puppies that are flown or are picked up/delivered outside of Kentucky are not taxed. After you have paid your initial deposit via our Web site, balance payments for the puppy and any travel arrangements, boarding fees, or processing fees  can be made with cash, Zelle, Venmo, cashier's check, or Credit Card prior to delivery. Balance payments that are paid with PayPal or Credit Card are subject to a 3% processing fee.  We will confirm your payment option prior to final invoicing so that necessary fees will be included in your final payment amount.
Refunds
If perchance something should happen to your puppy while you have a deposit on it, we would let you pick another puppy if one is available, apply the deposit to another puppy from a future litter, or simply refund the deposit.
As specified above, a deposit for a "named" puppy is non-refundable. However, we understand that there are circumstances outside of your control; we would be happy to communicate and come to agreeable terms should you be unable to complete your puppy purchase.
Pricing for our Golden Mountain Doodles
Carrier Family Doodles has a flexible pricing model to accommodate various factors, such as puppy size, color, coat type, and age. Puppies are individually priced on our Current Litters page. Prices typically range from $1000-$3000.
*In the case of a price change, we will honor the price specified at the time of your deposit.*
carrier family doodles' puppy giveaway
Carrier Family Doodles gives away one out of 10 puppies to a qualified recipient. Details and an application can be found here. However, please only apply if you can accommodate local pickup of a puppy. We are willing to deliver, but delivery charges will be the responsibility of the recipient, and it is likely that one applying for a giveaway puppy is probably not in a position to take on delivery fees.
The Carrier family offers guidelines for who may be selected to win a free puppy, but selection of a recipient is solely at the discretion of the Carrier family. They retain no liability toward those who apply but are not selected. In most cases, we truly wish that everyone who applied could receive a free puppy! Winners will be notified via email. We do try to notify all who applied, even if they have not been selected, but please be aware that we often receive a high volume of requests and a personal response is not always practical, depending on our time constraints.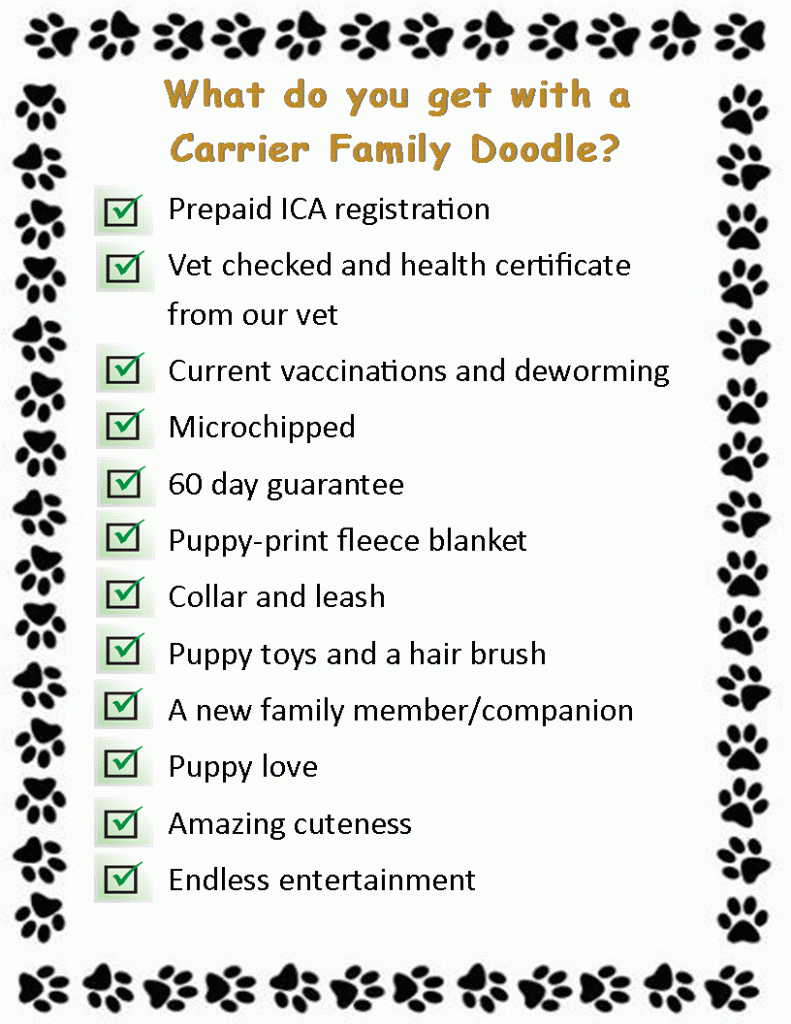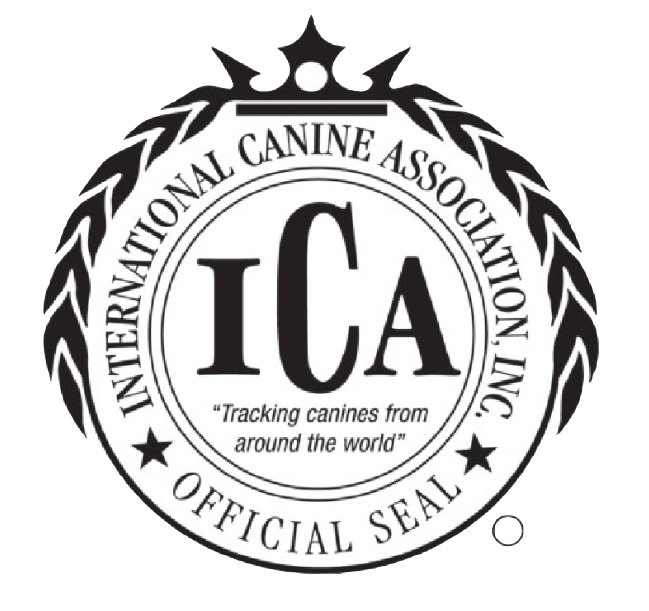 A righteous man has regard for the life of his animal…

Proverbs 12:10