Our Puppy Parents are Golden Doodle females and Bernedoodle males,
creating unique Golden Mountain Doodle puppies
Jackpot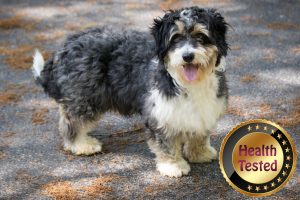 Jackpot is a registered mini tri-color, F1 Bernedoodle. He is 26 pounds, ideal for producing mini offspring that make great little lap and house dogs. He has been health tested for genetics, elbows, hips, and cardiac.
We adopted Jackpot into our home after he was three years old, having spent most of his life in a kennel. He came named (Jackpot probably would not have been our choice!) and, although we have an open-door policy with the doggy door, Jackpot still has not ventured inside the house. It seems that he is content to be an outdoor kennel dog, but he has gotten familiar enough with Rebekah that he enjoys seeing her around his territory each day and is happy to receive some affection as she goes about her daily tasks.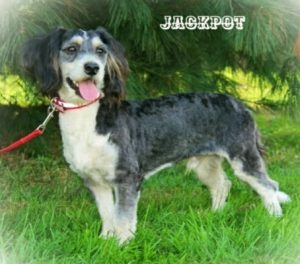 Buster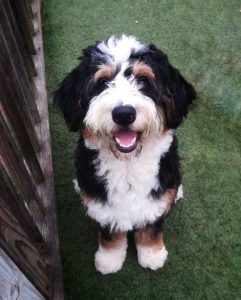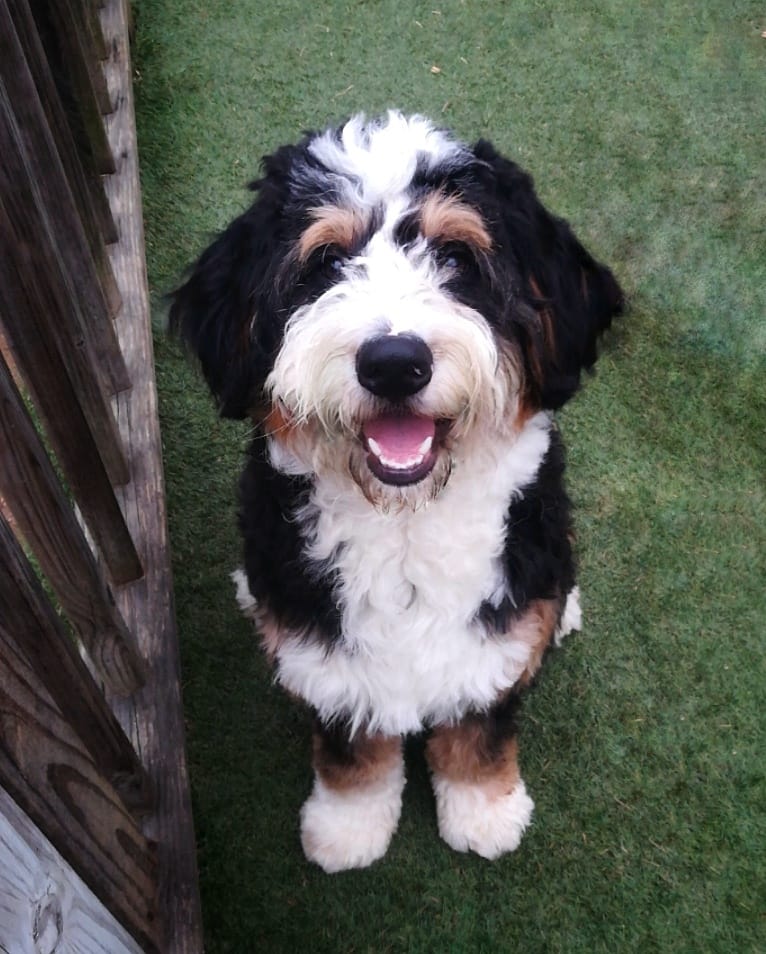 Buster was adopted at 14 weeks and is a bundle of non-stop energy. He fears no one and will actively engage anyone who will play, play, and play some more with him. Bekah says, "Buster is definitely an extrovert!" He is an F1 Bernedoodle of the medium variety, approximately 50 pounds. He is ideal for breeding our standard and larger minis and will produce some beautiful puppies. Buster has been genetic health tested.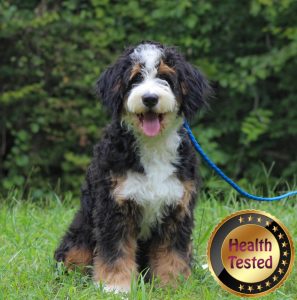 Carly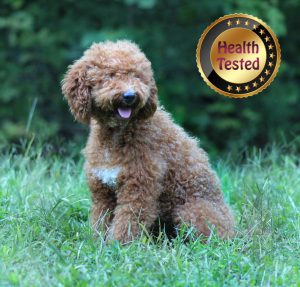 Carly is one of our two F1B Goldendoodles. That means her mom was a Goldendoodle (with parents being a Poodle and a Golden retriever) and her dad was a Poodle. This gives her a tight, curly coat and striking reddish brown color. She is just plain beautiful. She is a red mini, weighing in at 23 pounds. She was adopted at five months of age and was already a house dog. She is quite sociable and highly intelligent. She is very gentle and one of the most obedient of all of our dogs. As the first of our puppy parents, she seems to be respected as the mature mom among our females. Carly has been genetic health tested.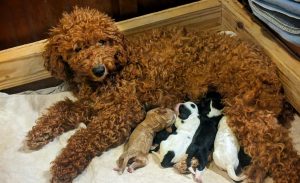 Cheza and Jina (the twins)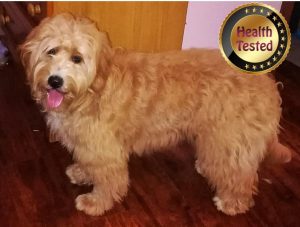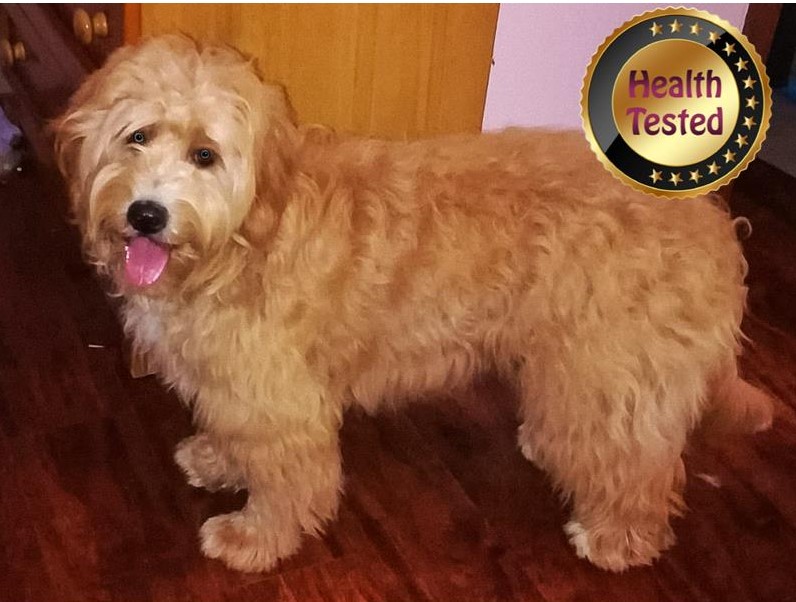 Cheza means "play" in Swahili, the language of our former mission field in Kenya. As her name indicates, she is usually the most playful of the adult dogs. She is an F1 mini Goldendoodle weighing about 21 pounds. Cheza and Jina have a similar look, except that Cheza has a white bib and a white tip on her tail. Bekah, who is in charge of bathing and grooming all of the dogs, says that Cheza's coat is by far the softest and silkiest, does not tangle as much as the others, and is easiest to groom. She says, "If I were going to buy a puppy from one of our dogs, I would want Cheza's!" Cheza has been genetic health tested.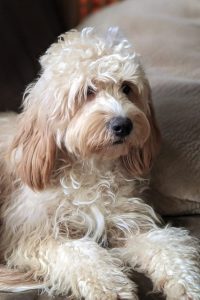 Jina means "name" in Swahili. We picked it almost in jest because we could not agree on a name for her as a family, so it stuck. Jina is also an F1 mini Goldendoodle weighing about 21 pounds. Jina has uniform golden beige/tan coloring and is much quieter and more timid than her sister. Interestingly, her favorite place to sleep is on top of the couch, almost like a cat rather than a dog! Jina has been genetic health tested.
Mvua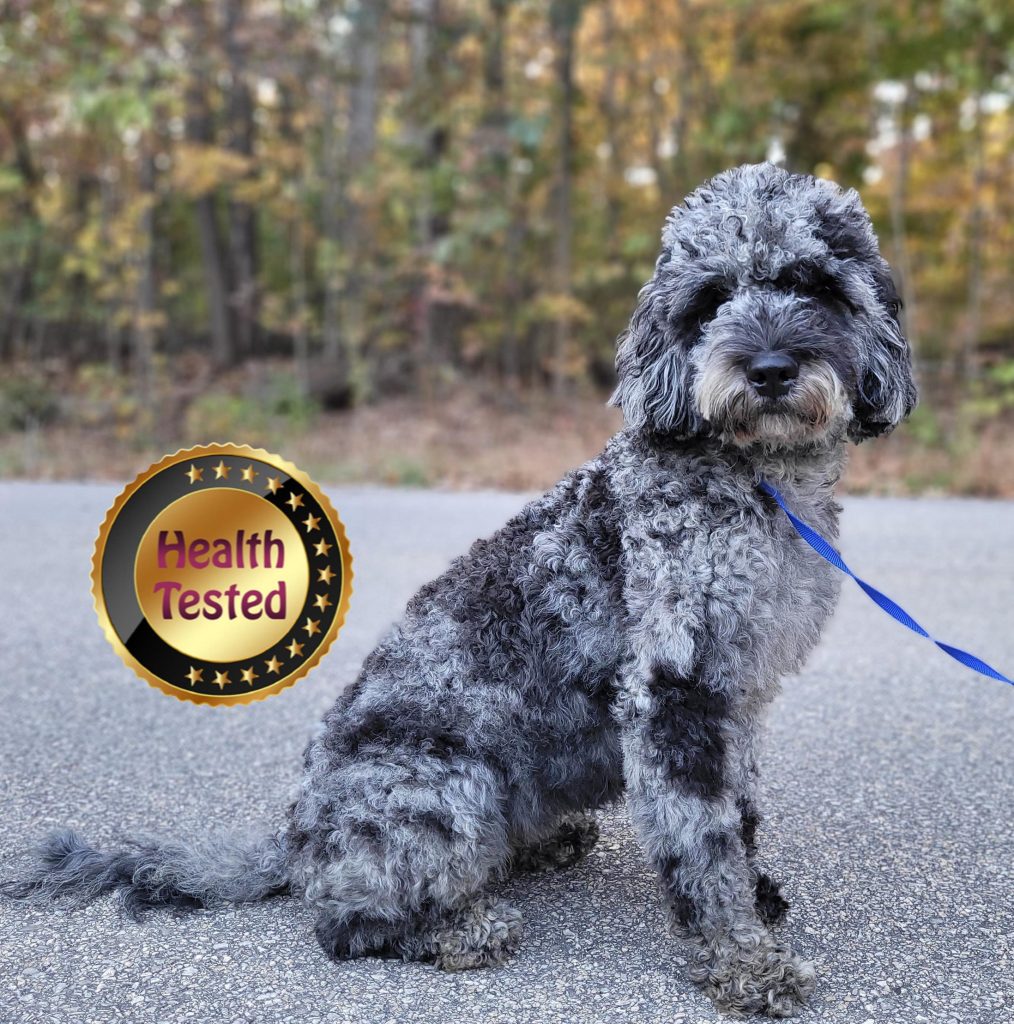 Mvua means "rain" in Swahili. Mvua is an F1b, mini Merle Goldendoodle (her father was a Poodle and her mother was a Goldendoodle). Mvua weighs about 29 pounds and has a slender physique and sweet temperament. Mvua is genetic health tested.
Shorty
Shorty is the second of our "Merle sisters," although she and Mvua are actually not at all related. She is an F1 Merle Goldendoodle weighing 20 lbs. Shorty is somewhat shy but sweet and playful with her "people." She is a lap dog who really likes to snuggle and be pet. Shorty is genetic health tested.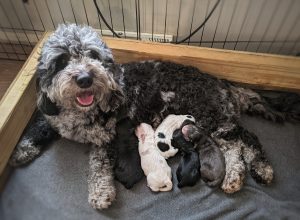 Ruby
Ruby is a standard (50 lb), F1 phantom Bernedoodle. She is our only Bernedoodle female and, with Buster, should produce some beautiful medium/standard F2 Bernedoodle babies. Ruby has been with us since she was a puppy; she loves attention and enjoys having a house full of play mates (both children and other dogs). Ruby is genetic health tested.